Soft Ginger Molasses Cookies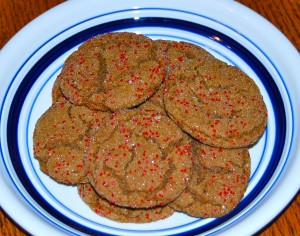 This is one of my all-time favorite cookies. I don't make them often though because I will usually eat them until they are all gone. Soft Ginger Molasses Cookies are like Ginger Snaps without the snap. Usually just rolled in granulated sugar, sometimes I like to dress them up a little with some colored sugar mixed with the granulated sugar for a little extra sparkle.
Soft Ginger Molasses Cookies
Preheat oven to 350 degrees.
1/2 cup butter
1/4 cup shortening
1/2 cup sugar
1/2 cup brown sugar
1/4 cup molasses
2 teaspoons baking soda
1 egg
2 3/4 cups flour
1/2 teaspoon cloves
1/2 teaspoon ginger
1 teaspoon cinnamon
1/2 teaspoon salt
1/4 cup granulated or colored sugar reserved
Cream together butter, shortening and sugars. Add molasses and egg, mix well. Add dry ingredients and combine until dough is well combined. Roll dough into 1″ balls and roll in granulated sugar. Place on ungreased cookie sheet and bake for 10-12 minutes.
Makes 3 dozen cookies.
Tags: Cookie, Cookies, Favorite Recipes, Molasses, Recipe, Sugar